TODAY
Gerlach is represented in 11 European countries at more than 70 locations.
In other European countries, Gerlach, as a wholly-owned subsidiary of Deutsche Post DHL Group, benefits from an international partner network. A total of 1000 customs experts and consultants in 27 European countries are available to assist you with your customs matters. Beyond that you can make use of our global partnership network.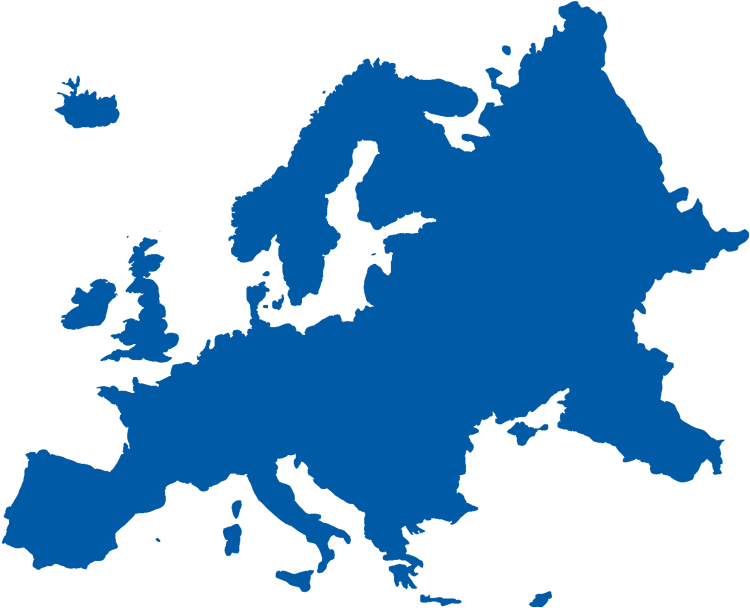 Our company history:
1881
Gerlach was founded in Bad Bentheim by Jean Arnaud Corneille Gerlach. Subsidiaries were opened in the Netherlands and Belgium.
1921
Gerlach offers transport services in addition to the customs business.
1987
Gerlach becomes part of Royal Nedlloyd in Rotterdam. The transport business is taken over by Nedlloyd. Gerlach relies on its core business, its Customs Services.
1989
Gerlach opens its first office on the "new" Polish-German border.
1991
Gerlach opens its first office on the Czech-German border.
1993
Gerlach opens its first office in Poland.
1999
Takeover of Nedlloyd and thus Gerlach by Danzas, which has been owned by Deutsche Post.
2004
Gerlach expansion into Switzerland and Slovakia.
2006
Gerlach celebrates its 125th anniversary.
2009
Gerlach opens offices in Bulgaria.
2012
Gerlach opens offices in Ukraine and Romania.
2013
Gerlach expands to United Kingdom.
2017
Gerlach expands to Sweden.
2018
Further offices are opened in United Kingdom (Southampton).
2019
Opening of further offices in Poland (Bobrowniki).
Gerlach
The Success Story
The history of the Gerlach company begins in 1881 in Bad Bentheim, on the German-Dutch border. In order to understand the circumstances and the reason why it started here, one must go back to the year 1871.
At that time, Germany consisted of a multitude of small kingdoms, dukedoms and principalities.
The largest kingdom at that time was Prussia. In 1870/1871 Chancellor Otto von Bismarck defeated France in the Franco-Prussian War and annexed the small kingdoms and duke principalities.

Economically, they were still lagging behind France and Belgium. Bismarck wanted to change that.
In order to protect the aspiring companies in Germany, he introduced borders. This also led to the establishment of companies dealing with border customs formalities.

Jean Arnaud
Corneille Gerlach
The Dutchman Jean Arnaud Corneille Gerlach, who lived in Bad Bentheim had just lost his ship on a trip between Europe and Japan, also saw this possibility and had to promise his wife that he would not sail again. At first, he tried to be an entrepreneur at mining sandstones near Bad Bentheim. However, he saw a better opportunity in the now necessary border clearance of goods.

Together with his partner Jacob Baruch, a Jewish businessman who was also Dutch and lived in Bad Bentheim, he decided to open a border office.
The business flourished and in 1883 the two had already made a profit of
20,000 German Marks, which was a considerable sum at that time. After 5 years however the tragedy happened: In 1886 Jean Arnaud Gerlach, his eldest son and Gerlach's partner Jacob Baruch died shortly after each other.
The only one left in the family was Arnaud , the youngest son who went to higher business school in Amsterdam.
At the age of 17, he had no choice but to drop out of university and go to Bad Bentheim to continue his business.
A private life was not to be thought of at first. But the young businessman promised himself: As soon as the business profit exceeds 1 million marks, he would travel around the world. This goal was achieved with the balance sheet as at
31.12.1910. From 1912 to 1913 Arnaud Gerlach travelled to
Dutch India.
1914 the First World War began. The company had already opened several branches in the Netherlands and employed more than 100 people. Although the Netherlands remained neutral, several German employees had been drafted and many did not return. The world economic crisis began in 1923.
Shortly before the end of the economic crisis, Arnaud died in 1929 at the age of 59. His wife took over the management of the company, together with the managing director in Germany Konsul Wanke and Mr. De Vries in Oldenzaal. The company now employed more than 200 people.
The Second World War was a disaster, also from a business point of view. After the war the two sons Arnaud (A.J.) and Willem (W.H.) took over the business and had to do a lot of development work. There were still 16 employees, 50% of the buildings were destroyed or damaged. But the company continued its expansion – a short time later Gerlach was represented in the Netherlands, Germany, Belgium and Austria.
The company was sold to van Gend & Loos (VGL) in the early 1970s, but Arnaud remained managing director until his death in 1981. At the end of the 1980s, the entire VGL Group went to the Royal Nedlloyd Group, Rotterdam. And in 1999, Nedlloyd finally sold the Group to Deutsche Post AG, where it was integrated into the DHL logistics division.
Get in touch with us!